Ebenezer Scrooge has been portrayed on screen by Michael Caine, Jim Carrey, Tim Curry, Albert Finney, Kelsey Grammer, Seymour Hicks, Rich Little, Bill Murray, Reginald Owen, Guy Pearce, George C. Scott, Patrick Stewart and (somehow or other) Cicely Tyson. In animated versions, he has borne the mugs of Fred Flintstone, Mister Magoo, Scrooge McDuck and Yosemite Sam and carried the voices of Jim Backus, Simon Callow, Basil Rathbone and Walter Matthau.
For those in the know, however, one Scrooge towers over the rest…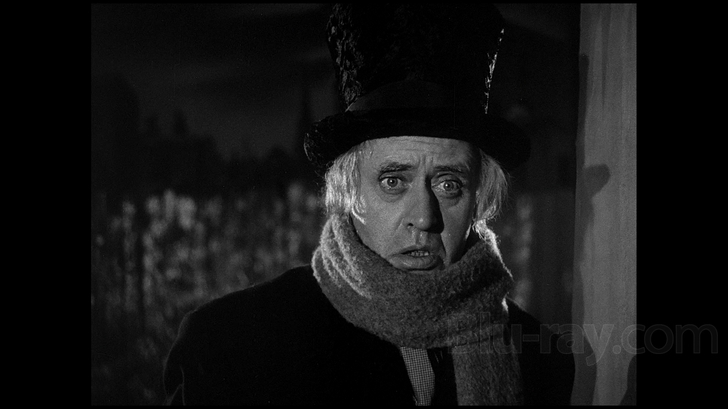 I have been putty in Alastair Sim's hands for 60 years or so. As a kid I would scour the TV schedule for a showing of his 1951 turn as Scrooge. The revisits have been less frequent lately, but I tuned in again yesterday, hoping to bring some company and holiday uplift into what was shaping up to be a lonely Christmas, with a son at work, a daughter in West Virginia, and nothing stirring, not even a mouse.
My effort succeeded. The movie does more than just hold up; it spills out new pleasures. I used to think of it as a transcendant portrait within a rickety frame. Profound apologies are owed, I now see, to everyone involved, beginning with the director, Brian Desmond Hurst. Online research tells me that he trained with John Ford, and this film reveals him to have been an excellent student, Fordian in his bold lighting, his careful casting of small roles, his loving attention to faces and expressions, his evocative use of folk music, and his readiness to be dark and funny at once. I look forward to checking out the rest of the Desmond Hurst o'euvre, above all On the Night of the Fire aka The Fugitive (1939), described as a pioneering British film noir.
Why, I am asking myself, was I so unappreciative for so long of so many of this film's fine qualities? I'm going to pin the blame partly on the genre — Christmas movies don't arouse thoughts of greatness — and partly on the fuzziness of old-time TV reception, which could not convey the blacks and shadows of such a work. Along with my apologies to the director and crew, I owe thanks to the good soul who has (perhaps illegally) uploaded the movie in a proper 1820×720 pixel rendering.
This time around, I was struck by, among other things, the work of George Cole as the young-adult Scrooge. His performance is not just moving in its own right but beautifully matched to that of Sim as the old-man Scrooge. I could say that Cole might almost be Sim's son. Instead, I will drop the "almost" and raise the idea that they may actually have been father and son, a hypothesis based on physical resemblance and the fact that Cole turns out to have been placed for adoption around the time Sim befriended the young teenager who, when she reached a decent age, became his wife — a marriage that would last 55 years! Later on, Cole came to live with the Simses, remaining there on and off until he himself got married and built a house nearby, where he raised his own family. He and Sim appeared in 11 movies together. Cole eventually became a star of British TV, playing the detective Arthur Dailey in the series "Minder." Also in need of checking out.
The other standout performances include Michael Hordern as Jacob Marley, Mervyn Johns as Bob Cratchit, Hermione Baddeley as Mrs. Cratchit, and, for me the most striking, Kathleen Harrison as Scrooge's housemaid, Mrs. Dilber. Harrison's character is pivotal to two glorisously contrapuntal scenes. First comes a vision presented by the Ghost of Christmas Future in which she is part of a merry band of lowlifes ransacking the stray household assets of a dead man they hold in shared contempt, while Scrooge looks on, gradually connecting the dots and identifying himself as the departed.
A few minutes later, Harrison returns as the first fellow human to be encountered by Sim when he awakens from his night of transformative visitations. Here is where Sim soars to his highest heights. Bounding out of bed wrapped in a blanket, he takes a pinch of his own flesh, gazes at himself in a mirror, and, satisfied that he has survived, cavorts about with mad glee. Harrison is right there with him, initially baffled, then terrified, finally racing from the room in panic until they meet again for a final coda on the staircase. She's terrific.
And Sim is operating in a stratosphere of brilliance that is nearly impossible to analyze or describe. But I don't have to: you can check out this sublime sequence for yourself, 1 hour, 13 minutes and 30 seconds into the movie.
I love this performance from start to finish, and I suspect I would feel much the same way about the man. In 1959, Sim filed a lawsuit against H.J. Heinz for using an obviously Sim-like voiceover in a baked-beans commercial. He lost the case, possibly because he couldn't claim any economic harm; his objection was not that they had failed to compensate him, but that he would never "prostitute his art" by advertising baked beans or anything else.